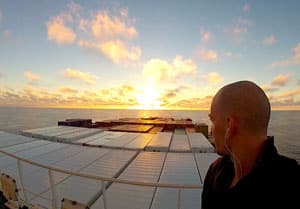 In this article you're going to learn everything you need to know about booking a cargo ship travel adventure.
I"ll also tell you about my own trip across the Pacific Ocean on a cargo ship.
(There shall also be videos of men dancing badly.)
Let's get started…
Table Of Contents
The Pros & Cons Of Cargo Ship Travel
PROS
Off the beaten track
Explore routes and coastlines most travelers will never see.
Solitude
Lots of time alone and without distractions. Spend it reading, writing, thinking.
Generous luggage policies
No need to pack light or measure your suitcase to make sure it fits in an overhead bin. You can usually bring two big suitcases aboard at no extra charge.
Experience life at sea
You'll often be allowed visit the engine room, the bridge, and other interesting parts of the ship. You may also be invited to dine with the captain and crew and hear tales of pirates and booty.
CONS
Expensive
Cargo ship travel will cost you about $125-$145 per day. (Though you might be able to swing a free trip; see below.)
Boring
You'll have little entertainment or social interaction. Most ships are without internet, you might be the only passenger, and the crew will be busy at work most of the day.
Rougher ride
You're more likely to experience motion sickness on a cargo ship than a cruise ship since cargo ships don't use stabilizers.
My Experience Crossing The Pacific Ocean On A Cargo Ship
In early 2014 I traveled by cargo ship from Japan to Peru, with stops in Mexico and Panama along the way.
The entire trip took 26 days and cost $4,526 (including all associated banking fees, travel insurance, medical check-up, etc.).
Around The World Without Flying
The trip across the Pacific was part of my 44-month trip around the world without flying.
I'm often asked how I was able to travel for so long. It's simple: I work online, and have done since quitting my last "real job" back in 2010. Ever since then, I've been able to earn a living from anywhere with a laptop and an internet connection.
This website is primarily about building an online business. If that interests you, check out this free 9-part video series that I filmed in three different countries.
Below is a video I made about my cargo ship trip across the Pacific.
In it you will see:​
The facilities aboard the ship (cabin, lounge, gym, swimming pool, etc.).
The type of meals I ate.
Some beautiful sunsets.
Dolphins frolicking on the waves.
Me dancing like an eejit
Did you know you MUST have insurance for cargo ship travel?
Consider signing up to SafetyWing, my favorite travel insurance provider (read my review). They offer low-cost, comprehensive coverage in 180+ countries.
Cargo Ship Travel For Free?
Catching a free ride aboard a cargo ship is difficult, but not impossible.
I personally have never managed to score a freebie, so I reached out to Thor Pedersen of Once Upon A Saga for advice here.
Four things you need to know about Thor:
He is on a mission to visit every country in the world without flying.
As of this writing, he's more than halfway there. You can follow his progress here.
He has enjoyed several free trips aboard cargo ships on his travels.
He's also partial to the occasional dance on the high seas.
I asked Thor for his best tips for scoring free trips aboard freighters, and here's what he advised:
1. Ask The Right Person
Never ask the captain unless he is also the owner!
I find that captains find it slightly or massively annoying when travelers want to hitch a ride. It's their "office" and they are rarely concerned with where you want to go. They just want to get "out there" and follow their routine.
The captain is much more likely to okay it when the company is asking.
So I advise to work out who owns the boat/ship and connect with them. With container carriers there is often a fleet manager. If you can't find him on their webpage then a PR manager is also ideal.
I work out which boats go where by googling it, by calling port authorities or by going to the port. A ship's name is often enough to find the owners online. If I'm in a small place (eg Caribbean) then people are usually willing to help and everybody knows everybody anyway.
2. Give Them A Good Reason
You need to sell it!
Why should they bring you onboard?
I have quite a solid story: every country in the world without flying, returning home or spending less than 24 hours. People respond to that.
In addition I'm trying hard to advocate for the "normal" people of whom there are most. I try to prove that the world is a better place that what most people think. I try to adjust people's perception on reality.
A lot of companies respond positively to that. They want to help. They want to take part.
3. Keep Calm And Carry On
I try to stay friendly, kind, patient, polite, charming, humble and I tend to smile a lot. I'm sure that helps too.
Important Note
You absolutely CANNOT work aboard a cargo ship in exchange for passage. This may have been possible decades ago, but not anymore. Becoming a crew member on a modern cargo ship requires years of study and training.
How To Book Cargo Ship Travel
If you're happy to pay for your trip aboard a cargo ship, follow these steps to make a booking.
First, a tip…
It's best to book far in advance since passenger cabins are limited on cargo ships and the most popular routes sell out quickly. Plan six months ahead to have a good shot at securing the trip you want when you want it.
1. Think about the experience you'd like to have
You can go pretty much anywhere by cargo ship nowadays. To narrow down all the available options, first think about what's most important to you.
For example:
Do you want to travel by cargo ship just for the hell of it and don't really care where you go?
Are you trying to get to/from a specific port?
Do you want to travel a particular route?
2. Explore options on these agency websites
It's best to book cargo ship travel through a specialist travel agency. There are quite a few out there, but I recommend these six:
It's also worth checking for additional agencies in your home country or in the country you want to travel to/from.
For example, googling "Freighter Travel New Zealand" leads you to an agency or two based in that part of the world.
Browse each website and you'll find tons of options available for cargo ship travel. Make note of those you like best.
3. Call/email to receive specific dates and prices
By now you should have a good idea of where you want to go and when.
The fastest way to proceed is to call/email each of the aforementioned agencies, tell them your requirements, and see what dates and prices they come back with.
Here are the contact details for each:
For example, I emailed The Cruise People to ask if they could help me get from Hong Kong to Australia, and they replied back with the following:
You can download the PDF that was attached to that email here. But please note that the information in that PDF may be outdated by the time you read this. Best contact an agent yourself to make sure you're getting the latest info.
4. Confirm the details and make the booking
Once you find a trip you like the sound of, check the following before sending the deposit and securing the booking:
You have a valid passport or can get one in time for the trip.
You can acquire all the necessary visas for the foreign countries you'll be visiting on the trip.
You have all the required immunizations and medical certificates, or can get them in time for the trip. (Ask your agent what's required here.)
You can acquire proof of onward travel if necessary for the country you'll be disembarking to (assuming you're not a citizen of that country).
Once you have all that checked and you've sent your deposit, you'll need to…
5. Get all your documentation in order
The exact documentation you'll be required to submit will depend on which travel agency you book through and which shipping company you'll be hitching a ride with.
To give you an idea of what's involved, here's a list of all the documentation I had to submit for my trip across the Pacific with Sea Travel Ltd. (the travel agent) and CMA-CGM (the shipping company).
All of these documents were transferred via email. I often had to print, fill out, scan, and email back.
You'll usually be required to submit all of this stuff at least three weeks before your trip.
General Sales Conditions / Passenger Declaration
This was a list of CMA-CGM's terms and conditions that I had to sign and date.
Indemnity Agreement
This was a legal document to cover CMA-CGM's ass in case something went wrong while at sea. Signed and dated.
Insurance Declaration
I had to provide details of my international travel insurance. I was insured with World Nomads at the time but now I use and recommend SafetyWing. You may also be required to provide your Certificate of Insurance from your insurance company.
Medical Certificate
Must be filled in by a doctor no more than 30 days before sailing date, to prove that you're fit and able to travel.1
An onward ticket from country of disembarkment
If you'll be disembarking in a foreign country, you may be asked to provide proof of onward travel, just like at an airport. I was required to provide such proof for Peru, so I went online and bought a cheap bus ticket from Peru to Ecuador. The email receipt was my proof, though I never ended up taking that bus.
Proof of required vaccinations
Usually this will be a copy of your yellow book. I had to show that I had the yellow fever vaccination. Many cargo ship voyages will require that you at least have that one and it can cost $150 or more to get it in the Western World so be sure to factor that into your costs.
Your actual cargo ship ticket
The agent sends this to you with some details you need to fill in.
A copy of your passport
Which must be valid at least six months beyond your anticipated return date.
Copies of any required visas
Use VisaHQ.com to check what visas you need.2
Emergency contact information
Name, address and telephone number of a friend or family member who should be contacted in case you hit an iceberg or something.
Frequently Asked Questions About Cargo Ship Travel
"Why is cargo ship travel so expensive?"
Best I can figure, it's because the freighter companies don't care. They're carrying multimillion dollar cargoes, and they only have room for a handful of passengers on each ship.
It's not exactly big business for them, so they probably charge a high price to make it worth their while.
"Are there cheaper alternatives for traveling by sea?"
Yes.
Regular cargo ship travel will usually cost you $125/day or more.
Cheaper options:
You can try score a free ride using Thor's tips above.
Check CruiseSheet.com for really great deals on cruise ships, some as low as $47 per day.
Register on FindaCrew.net and try find yachts and sailboats on the routes you're looking for.
Many boats will take on newbies as part of the crew, so you can scrub decks and peel potatoes in exchange for passage.
You can find paying positions on there, too – and thereby make a little money on the high seas – though you'll usually need some solid experience to swing that.
Here's a listing I found on Find a Crew just now for a sailboat heading from Panama to the Pacific Islands and looking for crew…
Two things to be aware of with sailboats:
Getting from A to B by sailboat will usually take a while. Panama to French Polynesia, for example, can take 54 days by sailboat (according to this report), whereas your average cargo ship would cover that distance in about two weeks.
Smaller boats tend to feel the motion of the ocean a lot more, so there's a much higher chance of seasickness.
"Can I work aboard a cargo ship in exchange for passage?"
No. Modern union rules don't allow it. You need to be trained and qualified nowadays to work aboard a cargo ship.
"What is there to do aboard a cargo ship?"
Not a lot, to be honest.
I mostly kept busy with the following activities:
Reading
Writing
Exercise
Studying Spanish
Exploring the ship and chatting with the crew
Watching the occasional movie
If the weather is good, you can also find yourself a nice spot out on deck and work on your tan.
The Cargo Ship Diaries
While on the ship I wrote a book. It has an average rating on Amazon.com and Amazon.co.uk (100+ reviews).
"What are the meals like?"
I was on a French ship with a French chef, so the meals were quite good. Lunch and dinner were both three courses and served by the chief steward on a white table cloth.
Breakfast was a help-yourself affair with cereal, bread, eggs… that kind of thing.
That said, you should expect the quality of the cuisine to vary greatly from ship to ship.
Also, to be clear, you don't pay anything extra to eat while aboard the ship. All your meals are included as part of the $120/day or whatever you pay up front.
"What is the accommodation like?"
Again, this will vary from ship to ship, but you can expect most passenger cabins to be quite nice, akin to a decent hotel room.
My cabin aboard the CMA-CGM ship was quite spacious, with a double bed, a sofa, a private bathroom, and a big desk.
Here's a 30-second video tour of it:
"What other facilities and services can I expect?"
Don't expect Internet access.
Most ships have satellite internet access nowadays but usage is heavily restricted. I could only send and receive email via a custom address CMA-CGM set up for me. The system would save all the emails and send/receive in batches twice a day.
Aside from that, it'll depend on the ship you're on.
My cabin was cleaned once per day and I had access to washer and dryer to do my own laundry.
There was also a little fitness room on board for exercise, a small swimming pool for splashing around in, and they had a big closet full of DVDs that I could watch in the private passenger lounge.
Many ships will have a "slop chest" where passengers and crew can buy cigarettes, beer, toiletries, etc. Payment is usually only accepted in cash USD.
"Will I have much interaction with the crew and other passengers?"
You won't have a ton of interaction with the crew as they are essentially working full-time jobs while aboard the ship. If there are other passengers, you can of course befriend them and wile away the hours together.
On my trip across the Pacific, I was the only passenger and so had several hours a day to myself.
Depending on the ship, you may get to dine with the crew and interact with them regularly that way. I was invited to dine at the captain's table for dinner on Sundays, but other than that I was eating alone at my own table.
I was allowed to visit the bridge anytime I wanted – the captain gave me the code to the door – so I was able to wander up there and chat with whichever two guys were on duty. (Two people always had to be present on the bridge when the ship was in motion.)
"Is a cargo ship a good place to pick up chicks?"
Uh, no.
Female crew is a rarity.
All 33 crew on the ship that took me across the Pacific were male.
Twas just me and a boatload of seamen 😕
"Will I be allowed to explore the cargo ship freely?"
Probably not.
I wasn't allowed out on deck alone for the first few days at sea because conditions were a bit rough. Later I was allowed go out for a wander but had to notify the bridge before and after.
As mentioned, I was given the code for the door to the bridge so I was allowed go up there whenever I wanted and chat with whoever was on duty.
To see the engine room and other interesting parts of the ship I had to be accompanied by a crew member. Which was actually better, because they were able to show me some cool stuff and explain how it all worked.
"What should I bring with me for cargo ship travel?"
Some suggestions:
Lots of reading material
A laptop with some movies and TV shows loaded up and ready to watch
Seasickness tablets
Toiletries
Sunscreen
A power converter 3
"What are some other things I should be aware of?"
Age
If you're over 70 years old, some companies will refuse to take you as a passenger. Many companies will also refuse to take young children.
Luggage
According to The Cruise People you're allowed 100 kilos (or 205 lbs) per person.4
Pets
Sorry, no cargo ship company I know of will let you bring pets aboard. Try Pet Movers instead.
Americans
If you're a US citizen you're not allowed travel by cargo ship between one US port and another.
Proper Attire
This gentleman will see you right…
Getting Off The Ship
Often your ship will stop at many other ports along the way to your destination. You may not be allowed get off the ship at these ports. And even if you are allowed, you won't have much time to go explore, usually a few hours at the most. Check in advance with your agent how much freedom you'll have here.
No Fixed Schedule
Cargo ships can get held up in port by bad weather or other factors. In Japan I had to wait a couple of days longer than expected before embarking, and arrived in Peru later than expected.
"Is cargo ship travel more environmentally friendly?"
It took me 26 days to get from Japan to Peru on a ship that burned about 6 tonnes of fuel per hour. That's 3,744 tonnes of fuel total.
Alternatively, I could have spent 19 hours on a plane to move between the same locations. A 747 burns about 10 tonnes of fuel per hour, so that works out to only 190 tonnes of fuel total.
Some people would argue that both the cargo ship and the plane are going to make those journeys whether you're on them or not, so your choice doesn't make much difference either way.
But it's probably a bit more complicated than that.
In general though, according to a Defra study noted in The Guardian, transporting goods by sea is 44 times more efficient than transporting them by air.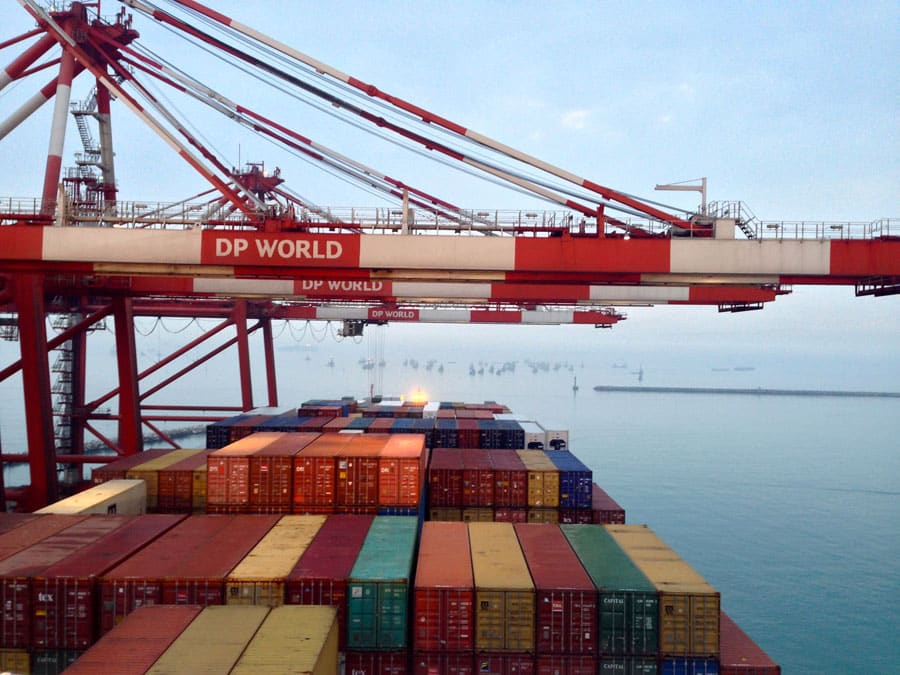 "Am I likely to encounter rough seas aboard a cargo ship?"
It depends on two things: the weather and the size of the ship.
The bigger the ship, the less you'll feel the rolling. And you're unlikely to encounter any bad storms since they see them coming and steer around them. (For example, we shifted course across the Pacific to avoid a storm near the Hawaiian islands.)
That said, there were nights where it was difficult to sleep because of the rolling.
I found that the "soldier's crawl" position was the best to adopt to get some shut-eye.
"Is it possible to travel to remote Pacific islands on a cargo ship?"
It is indeed. A fine seafaring dentist by the name of Thomas Booth wrote about his experience cargo shipping to:
French Polynesia
The Tuamotus
The Marquesas
The Cook Islands
Western Samoa
Tonga
Vavau
Fiji
Vanuatu
The Solomon Islands
Papua New Guinea
Micronesia
Read his full report here: How to Take Cargo Ships to Remote Pacific Islands
What Else Would You Like To Know About Cargo Ship Travel?
Is there anything you want to know about cargo ship travel that I didn't cover in this article?
Drop a comment below with any additional questions you have and I'll reply ASAP.
Did you know you MUST have insurance for cargo ship travel?
Consider signing up to SafetyWing, my favorite travel insurance provider (read my review). They offer low-cost, comprehensive coverage in 180+ countries.