Is Upwork legit?
Can you actually find clients on there and earn some money?
Below I'm going to tell you about Justin, a freelancer who went from earning only $9/hour when he first started on Upwork… to $50/hour only 12 months later.
This article is part of an 8-part series about Upwork. Click here for the headlines.
Justin is a member of my private Freedom Business Builder group.
Recently he wrote me an email:
It has been about 1.25 years since I joined your group, and I'm so glad that I decided to give running an online business a shot. Since I started, my earnings have increased significantly.
As you'll see, "significantly" turned out to mean raising his rate from $9/hour a year ago to $50/hour today!
In just 12 months, Justin had become proficient in web development and digital marketing, and then learned how to find clients and steadily raise his rate.
Justin mentioned in his email a video he'd uploaded to YouTube:
The video isn't super polished, but I think it does a nice job of summarizing the steps it takes to build an online business.
Here's the video:
Two key points from the video I'd like to highlight:
You don't need to have a degree in some technical skill to build an online business.
Many people think they need to go to college for four years and spend a bunch of money before they'll be qualified to do freelance work online, but as Justin notes, you can become a "relative expert" in many fields within 90 days of part-time self-study, and it won't cost you a fortune.
After joining FBB, Justin spent a month building his skillset, another month practicing his skills on some personal projects, then landed his first freelance web development job on Upwork one week after he started looking for one.
I followed up with Justin and he was kind enough to share more details about how he built his business:
My first major job on Upwork was only $7.2/hr after the 20% fee. I landed that first job about a year ago. Now, I typically get paid around $40/hr.

Last week, I landed a job on Upwork for $45/hr before fees. It was a strange situation…the job had several proposals already, but the client decided to invite me to the job.

I typed up a short proposal in about 10 mins. I woke up the next day, and she had sent me the job offer. No interview or anything. And the job is to clean up an Adwords account that spends roughly $2000 per month.
A few days later, another message from Justin:
I just landed a long-term $50/hr job on Upwork… This is the biggest client I've ever been matched up with at Upwork. This client has spent over $50k on Upwork.

I was invited yesterday, and I had my interview this morning. As far as I know, I was the only person he invited/interviewed.
I asked Justin to share more details about his Upwork proposals:
I typically use the same model for Upwork proposals: I ask about 3-4 relevant questions about the job in the first paragraph, and I qualify myself in the second paragraph.

Honestly, I think that my Upwork profile overview and track record does more to attract people than my proposals.

On average, I get 1-2 job invites every week from Upwork. Naturally, I'm not interested in every job that gets sent my way. One of the big perks of freelancing is having the authority to decide which jobs you want to take on.
Justin also sent along screenshots of that $50/hour job description and his proposal: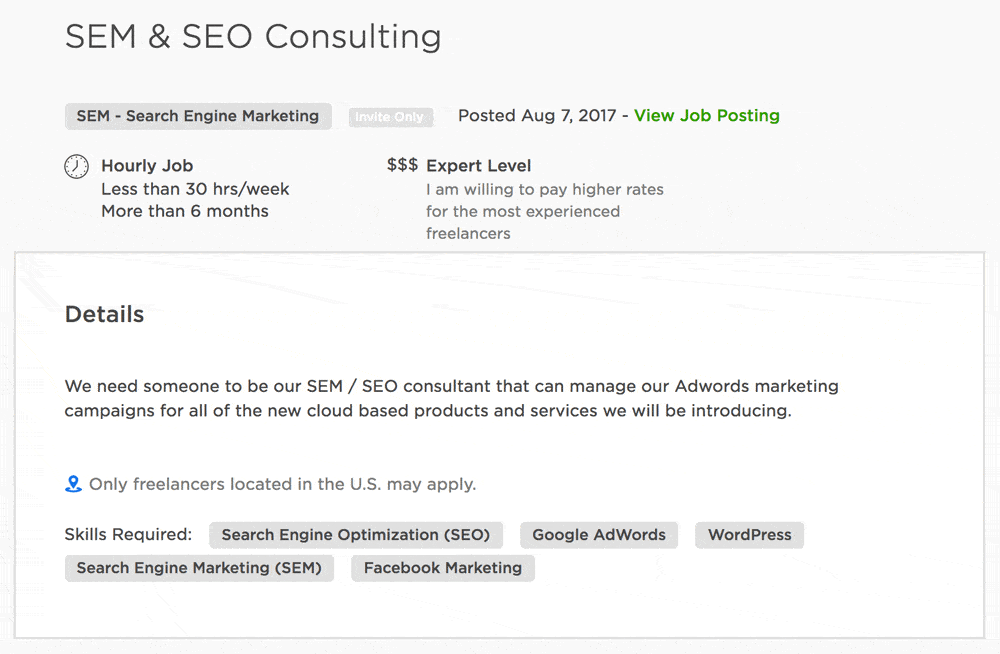 So is Upwork legit?
Given Justin's success on the platform, in addition to the success I've seen many other freelances having on there, I have to say yes, Upwork is legit.
But that doesn't mean it's easy to succeed on Upwork.
If you're struggling, see below for more tips to help you make money on Upwork.
Connect With Justin
Read our in-depth interview with Justin:
Get more Upwork success tips
This article is part of an 8-part series: